We Prepare Engineers for Careers in the Medical and Biological Engineering Industries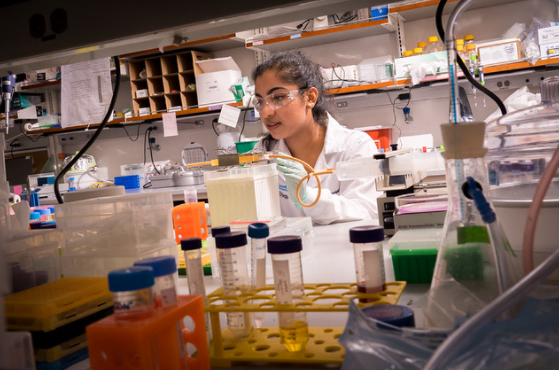 UC San Diego Bioengineering Undergraduate Program
Welcome to the undergraduate educational programs of the UC San Diego Department of Bioengineering! Since 1966, UC San Diego has offered an undergraduate major in Bioengineering. Over the past fifty years, UC San Diego Bioengineering has established a reputation of innovation and excellence in education.
Bioengineering is an interdisciplinary field in which the principles and tools of mechanical, materials, electrical, and chemical engineering are applied to biomedical and biological problems. Bioengineering plays an important role in medicine in projects that range from basic research in physiology to advances in biotechnology and the improvement of health care delivery in the clinic. By its very nature, bioengineering is broad and requires a foundation in mathematics as well as in the physical, chemical, and biological sciences.
Mission Statement
The mission of all engineering programs at UC San Diego is to:
Educate Tomorrow's Technology Leaders
Conduct Leading Edge Research and Drive Innovation
Transfer Discoveries for the Benefit of Society
In addition, the mission for UC San Diego's Department of Bioengineering is to provide our students with an excellent education that enables successful, innovative, and lifelong careers in bioengineering industries and professions.
Explore our Majors VIDEO
Educational Objectives
Student Outcomes
As indicated above, the UC San Diego Department of Bioengineering has an educational mission and targeted outcomes for its undergraduate major programs. Four undergraduate majors are available to current students, entering students, freshmen, and transfer students applying to enter in Fall 2022:
Enrollment and Degrees Conferred
| Department & Major | Fall 2021 Enrollment | 2020 | 2021 Degrees Conferred |
| --- | --- | --- |
| Bioengineering Total | 569 | 156 |
| Bioengineering | 163 | 47 |
| Bioengineering: Biotechnology | 206 | 96 |
| Bioengineering: Bioinformatics | 106 | 54 |
| Bioengineering: BioSystems | 94 | 45 |
---
Questions?
---
Advising Services